SAVE THE DATE FOR ASIAN DEFENSE & SECURITY EVENT - Set to Expand By Over 25%!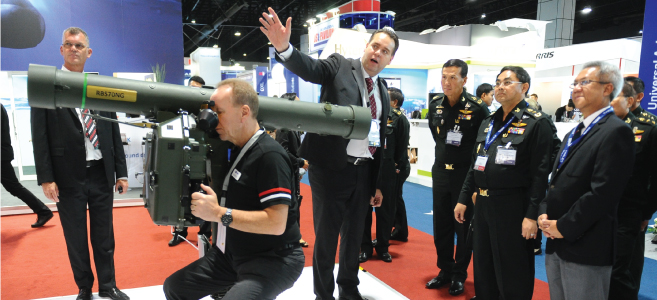 DEFENSE & SECURITY 2017 is now recognised as one the world's most important tri-service and security exhibitions. The show is held biennially and has risen to become one of the largest tri-service military exhibitions in Asia. The 2017 show will be over 25% bigger than the previous edition and will again be held at IMPACT Exhibition and Convention Center in Bangkok, Thailand. Show dates are 6-9 November 2017.
The latest cutting-edge technology and equipment from more than 400 world-leading military and security manufacturers from 50 countries will be on display. Top names include: Lockheed Martin, Nexter, Leonardo, Baretta, Thales, Aselsan, ST Kinetics, RAFAEL, IMI, UKRSPECEXPORT, FN Herstal, Arsenal 2000, NORINCO, MBDA, DIEHL, Trijicon, FNSS, YUGOIMPORT, SAAB, Rheinmettal and many others. The show will feature 25 National Pavilions from a record breaking number of countries including: Belarus, China, Czech Republic, France, Germany, India, Indonesia, Israel, Italy, Japan, Malaysia, Pakistan, Russia, Singapore, South Africa, South Korea, Serbia, Sweden, Switzerland, Turkey, Ukraine, UK, USA and Thailand.
The event will showcase weapons systems, missiles, tanks, guided weapons, vehicles, marine vessels, satellites, telecom & electronic defence equipment. Fire control systems & launchers covering all tri-services will be on display This will include Internal security technology and related hardware from security installers and manufacturers of security products such as guns, bulletproof vests, body armor, jammers, CCTV, intruder alarms, access control, electronic security devices and more.

Throughout the 4 day show, there will be many high level Government-to-Government (G2G) network meetings between senior government officials, delegations, and high ranking military officers. There will also be a variety of important TECHNICAL PRESENTATIONS that include topics such as Czech Defence Industrial Day, Next Generation Armor Technology, Cyber Security, System of System for Increased Operational Effect and Cost Efficiency, Ground-Based Air Defence with IRIS-T, Defense Industry Cooperation and Networking between Korea and Thailand, etc.

LIVE DEMONSTRATIONS will be taking place throughout the event including the Cyber Defense Virtual Reality (VR) Experience, demonstrating the full range of existing cybersecurity systems and solutions at the center of the Israel Pavilion.

The highlighted INTERNATIONAL SEMINAR on 'Military Readiness for HADR Operations' will be delivered by global experts in the field. In addition, there will also be a special keynote speech on 'The Improvement of Humanitarian Assistance and Disaster Relief Mechanisms in Asia and the Pacific' which will be delivered by a Representative from UNOCHA ROAP.
For more information about the SHOW PREVIEW and PRODUCT HIGHLIGHT, please…

DEFENSE & SECURITY 2017 is restricted to defence and internal security professionals only. All visitors are strongly advised to pre-register online to avoid long queues. Pre-registration is available 'till 30 October 2017 via www.asiandefense.com.
DON'T MISS THIS UNIQUE EVENT – PRE-REGISTER NOW!