HUGE INTERNATIONAL PAVILIONS AT DEFENSE & SECURITY 2017
The 2017 exhibition features 26 Group National Pavilions
that will showcase advanced products and military solutions from: Belarus, Bulgaria, China, Czech Republic, France, Germany, India, Indonesia, Israel, Italy, Japan, Korea, Malaysia, Pakistan, Russia, Serbia, Singapore, South Africa, Sweden, Switzerland, Turkey, UAE, UK, Ukraine, USA and Thailand. NOTE! DEFENSE & SECURITY has expanded over 25% from the previous edition! Many exhibiting companies have also grown and will be featured in national pavilions in order to accommodate their members. The Turkey Pavilion alone covers over 1000 sqm. One of the first-time Pavilions this year is from Pakistan which helps further DEFENSE & SECURITY as a major event being held at a regional level – a powerful and highly successful operation.
THAI NAVY HOSTED OFFICIAL LUNCH ON DAY 3
Adm. Luechai Ruddit, Deputy Commander in Chief, Royal Thai Navy hosted the Official Lunch on Day 3 on behalf of the Chief of Royal Thai Navy. Attendees included Official Delegations, Senior Thai Military Officials, Exhibitors and specially honored guests were also in attendance.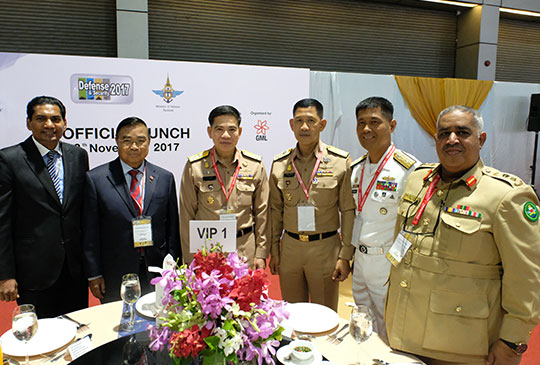 THE POWER OF PARTNERSHIP - VIA G2G MEETINGS
The theme for DEFENSE & SECURITY 2017 is based on the concept; 'The Power of Partnership'. Over the 4-day event, many related activities will run in conjunction with the exhibition including G2G meetings between senior government officials, delegations, and high ranking military officers from around the world. All will exchange views and initiate long-term associations and partnerships.