CUTTING-EDGE TECHNOLOGY FROM 400 WORLD-LEADING MANUFACTURERS IN 50 COUNTRIES
With full support from the Thai Ministry of Defence,
the region presents major opportunities for Thai and ASEAN Armed forces enabling defence and internal security professionals to inspect cutting-edge technology and equipment from more than 400 world-leading military and security manufacturers from 50 countries.

The 2017 event showcases weapons systems, missiles, tanks, guided weapons, vehicles, marine vessels and satellites, plus telecom and electronic defence equipment. Fire control systems and launchers covering all tri-services will also be on display. This will include internal security technology and related hardware from security installers. Also featured will be security products such as guns, bulletproof vests, body armor, jammers, CCTV, intruder alarms, access control, electronic security devices and more!
THAI ARMY CHIEF HOSTED OFFICIAL LUNCH ON DAY 2
Gen. Konjanart Sukrasreni, Chairman of the Advisory Board, Royal Thai Army, hosted an Official Lunch on Day 2 of the exhibition. Attendees included Official Delegations, Senior Thai Military Officials, Exhibitors and honored guests.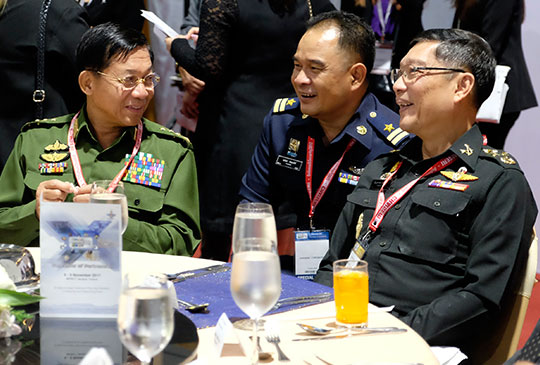 THE REGIONS BEST BUSINESS NETWORKING EVENT
Defense & Security 2017 focuses on international co-operation between nations. This is achieved by establishing contacts with professional business networks for defence and security manufacturers a long with global decision-makers. Yesterday evening's Business Networking Reception was hosted by Gen. Hasapong Yuvarnavandhana, Deputy Chief of Defence Forces. The first-class networking at the event underlined important linkage which undoubtedly resulted in stronger business ties and expanded business connections for exhibitors.