ASEAN's Leading Energy Show is Now Opened!
ASE2020 is a combination of 4 events: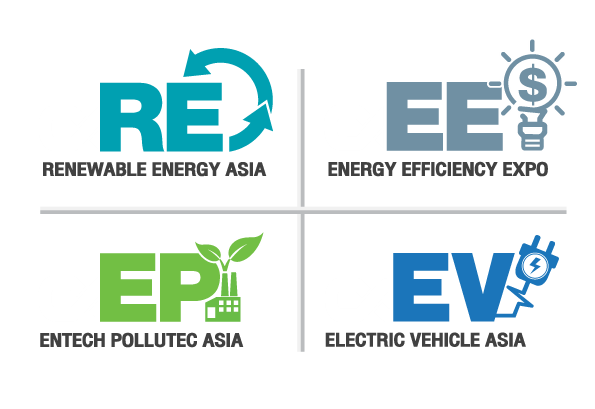 Together, they represent over 20 years of excellence in assisting Thai and ASEAN energy transition and development. The show is also co-located with Boilex Asia 2020 and Pumps & Valves Asia 2020 - ASEAN's most comprehensive international exhibition of Pumps, Valves & Boiler Technology. Both are the only specialized events of their kind in the Kingdom. The show features technology that is closely related to energy and energy efficiency. This year, there will be over 50 important Seminars and International Conferences running in conjunction over the period with the show.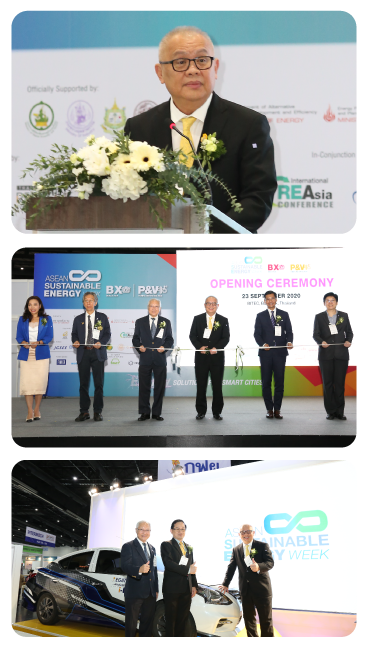 Post COVID-19, the energy industry is now facing new challenges with the need to adapt and thrive. ASE 2020 will provide an outstanding platform in supporting and driving the energy industry forward and providing support & assistance to the industry and businesses to overcome such challenges. The show will play a vital role in helping Thai and ASEAN and entrepreneurs to enhance business competitiveness, efficiency and cost-savings.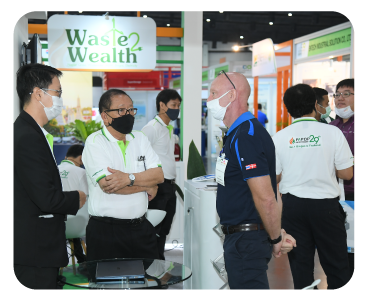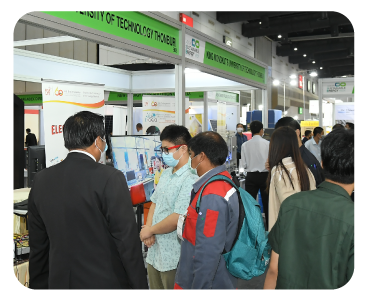 The views on Thailand's Energy Outlook from leaders in the Thai Energy Industry: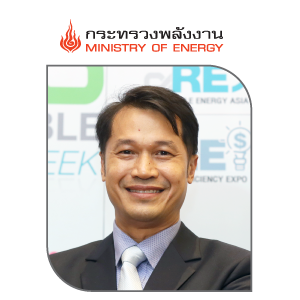 Dr. Twarath Sutabutr
Chief Inspector General,Ministry of Energy, Thailand
Renewable energy is definitely the future of energy and it is important to move forward. The effects of energy usage from climate change where many countries have already prepared a recovery plan, but many countries still require additional investments. Thailand has an advantage in bioenergy or the use of smart technology that will including Solar cells or solar rooftop technology.
Renewable energy is an important factor in production. In the long run it is still important; especially energy such as solar where the cost of solar technology is now cheaper. With a policy to promote the purchase of electricity among ourselves; renewable energy from biomass will
also be important in driving the national economy. JGSEE supports the public and private sectors in related technologies and also human resource development - especially in matters of Sustainable Bio Economy; Energy and Environment for Smart Cities.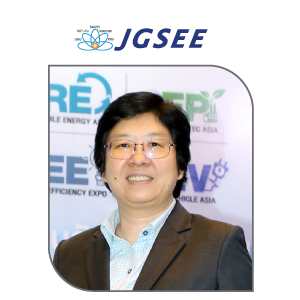 Dr. Suneerat Fukuda
Director, The Joint Graduate School of Energy and Environment (JGSEE), King Mongkut's University (KMUTT)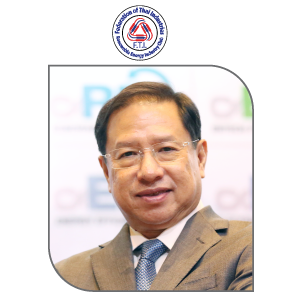 Mr. Natee Sithiprasasana
Vice Chairman-Biomass Energy, Renewable Energy industry Club, The Federation of Thai Industries
Technology disruption causes entrepreneurs to keep adopting and adjusting at all times. The government has helped to support the reduction of restrictions. Some government energy policy goes well with the private sector such as using technology in the National Digital Energy platform and the reform of the electricity industry structure so as to make it more competitive. If the government have clear guidelines and policies;
entrepreneurs are ready to support and drive forward.
Renewable energy will come to be Future Energy, with the 1st generation energy going to the second generation; the Electricity Generating Authority has been supporting a policy from the Ministry of Energy with an emphasis on improving transmission lines to support renewable energy such as Floating Solar by using dams as a storage agent. EGAT is also supporting the energy sector in terms of Energy Storage and E-mobility.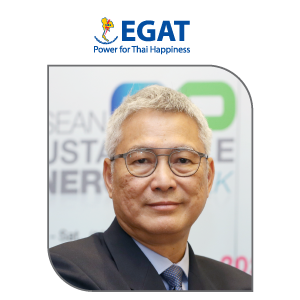 Mr. Patana Sangsriroujana
Deputy Governor Strategy,Electricity Generating Authority of Thailand (EGAT)
HIGHLIGHT CONFERENCE & SEMINAR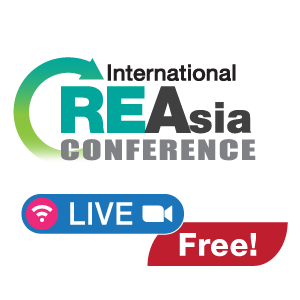 Sustainable Energy Solutions for Smart Cities
The full day's Conference will provide a forum for participants to update and share knowledge and experience in policy formulation, technology and solutions for Smart Cities Topics also covered include Smart Energy for Smart Cities, Biomass & Bioeconomy, and Energy Demand & Planning in Data Centers.
Plenary Session: Sustainable Energy Solutions for Smart Cities Time: 10.30-12.15

Parallel Sessions

Session I: Smart Energy for Smart Cities Time: 13.30 – 16.30 Room: MR 211, 2nd floor
Session II: Bioenergy for Sustainable Bioeconomy Time: 13.30 – 16.30 Room: MR212, 2nd floor
Session III: Energy Demand and Planning in Data Centers Time: 13.30 – 16.30 Room: MR213, 2nd floor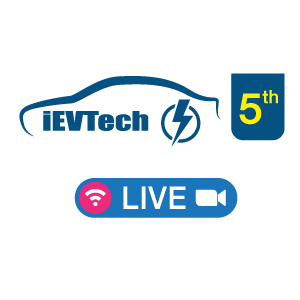 International Electric Vehicle Technology Conference and Exhibition (iEVTech 2020)
iEVTech 2020 is an international platform for researchers, designers, developers, policy makers and EV potential users to gather knowledge from leading experts around the world and share ideas and from one another. One of the highlight this year is the CEO Forum from leading car makers: GWM (Thailand), MG, NISSAN, PANUS, SKYWELL, VOLVO, MERCEDES BENZ to share their view on the EV development and technologies.
23 September 2020 (13.00 – 17.00 hrs.) Room: Silk 3-4

24 September 2020 (09.00 – 17.00 hrs.) Room: Silk 3-4

Topic: Honoring Nobel Prize in Chemistry 2019 and TESTA MOU Signing Ceremony




Topic: Taiwan Mobility




Topic: EV Knowledge Sharing
24 September 2020 (09.00 – 17.00 hrs.) Room: Silk 3-4


Department of Industrial Works Promotes BCG model to Elevate Entrepreneurs to Industry 4.0
The BCG Model is the development of integrated 3 economies: Bioeconomy, Circular Economy, and Green Economy at the same time in order to drive Thailand's economic in a sustainable way.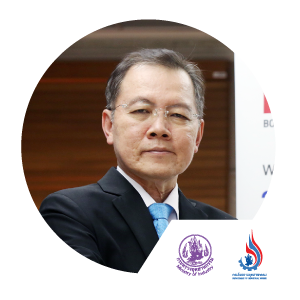 Mr. Prakob Vivitjinda, Director-General, Department of Industrial Works, the Ministry of Industry said
"the BCG model concept aims to bring advanced technologies and innovation including the development of energy and the environment to create value. The mission of the Department of Industrial Works is to promote, support, and enhance knowledge of machinery, production, environment, safety, hazardous materials, energy and social responsibility in the B-Bio Economy, C-Circular Economy, and G-Green Economy."
"The Ministry of Industry has a vision to enhance and move forward the Thai industrial sector to Industry 4.0 with the aims to promote technology and innovation, along with a focus on energy conservation and maximize material usage (zero waste)." The Director-General added.
DIW organizes important seminars and exhibitions to highlight a new generation of manufacturers and smart factory
The Department of Industrial Work (DIW) has supported Boilex Asia 2020 and Pumps a& Valves Asia 2020 for 7 consecutive years. Under the theme "The future of Thai industries towards BCG" with the principles of BCG (Bio Circular Green), there are exhibitions on BCG and 15 important seminars. Each year, over 2,000 participants attend these seminars organized by the Department of Industrial works.
The seminars will help to prepare for the step towards a new generation of manufacturers, "Smart Factory in Industry 4.0 ". Seminar topics will include safety measures in industrial operations in response to the situation of COVID-19 and measures for business continuity for the industrial sector (Workshop). There will also be small seminars such as digital systems and the law - Act related to industrial plants in a variety of dimensions. These seminars will be held from today until Friday, 25 September.
Another highlight is exhibition that highlight the successes of the Department of Industrial Works polices and the principle of the BCG model. There will be a demonstration of computer application and modern technology that help with improving safety and increasing the heat efficiency of boiler. This will help to improve the safety monitoring system and assessing the remaining life of the boiler.

For more information visit The Department of Industrial works stand located at Booth no K29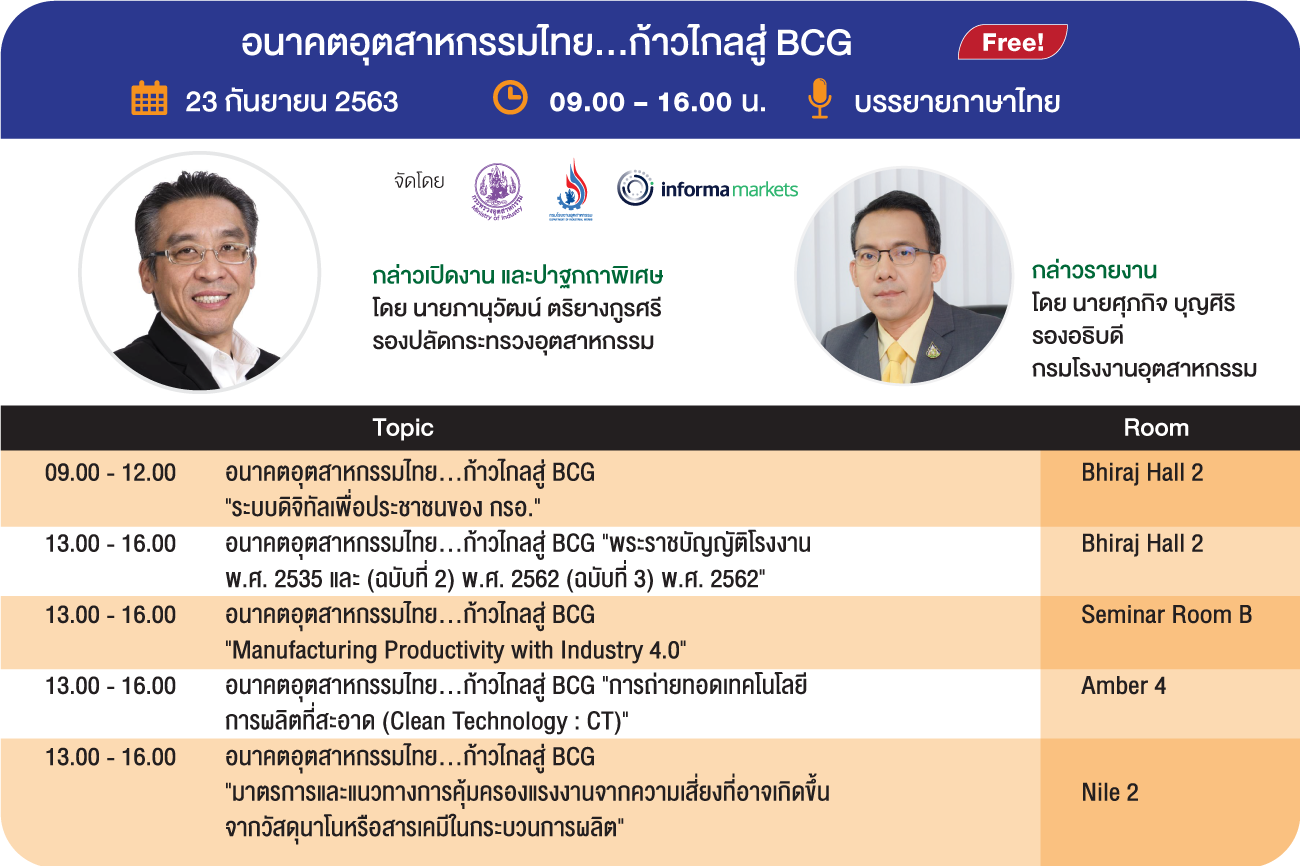 Miura - Japanese Leading manufacturer of Boilers
Visit Booth no. K9
"MIURA INDUSTRIES (THAILAND) CO., LTD. was established as a group company of Japanese leading manufacturers of once-through boilers. We sold high quality boilers and water treatment equipment on the Miura brand with excellent maintenance and customer service. Our products are highly energy efficiency and environment friendly.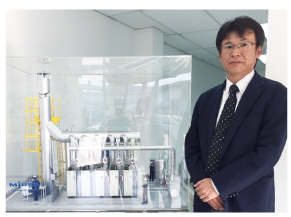 Mr. Yuji Kido
President, Miura Industries (Thailand) Co., Ltd.
Boilex Asia 2020 has proven to attract key target customers. For the past years, the show has helped to provide business connection, and also established partnership with companies in the related industry. The highlight products this year include smart boiler that comes with online maintenance system with saving energy that help to maintains high efficiency of the boiler. Visitors can inspect our technologies in boilers and full range of services."