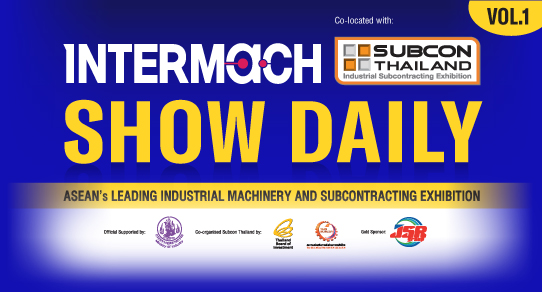 WELCOME TO INTERMACH 2020


The coronavirus outbreak is helping to speed up the process and the need for manufacturing solutions such as Robotics, AI and Automation. INTERMACH 2020 under the concept "Driving industry forward with intelligent technology". With more than 300 exhibitors exhibiting the latest technology and equipment; this will help to provide the machinery and equipment for Thai SME manufacturers to up-lift their production line to become a smart and efficient factory. Over the 4 days, the show will provide a platform to do business and also understand the real needs of their targeted customers which enable them to expand our business.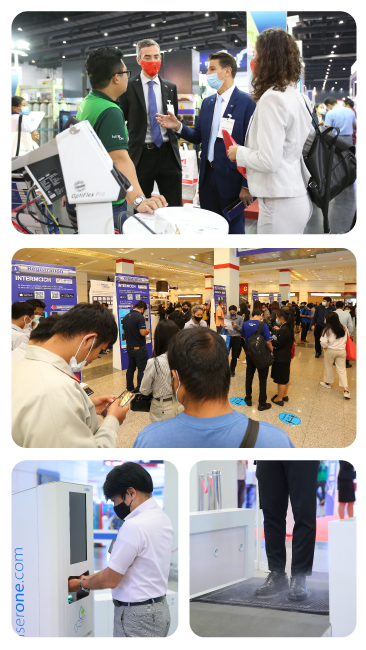 Co-located with INTERMACH 2020 is Subcon Thailand 2020 – The most important subcontracting and business matching event in ASEAN. This year more than 100 industrial part makers and suppliers are exhibiting here at SUBCON Thailand. Plus more than 50 important seminars and conferences that provide answers for the needs of entrepreneurs who are looking for new business opportunities, maximize capabilities, reduce production costs and enhance knowledge on topics that are of relevance to the post COVID-19 and future manufacturing industries.
Automation Zone Showcase!
Automation and Artificial Intelligence (AI) Robotics will transform industry in both Production and Service over the next 2-3 years. INTERMACH 2020 is presenting Industrial Automation Showcase featuring integrated advanced technologies, plus automation, software including robot arms from world-leading brands. The automation in manufacturing creates automated workflows, synchronization of assets, improved tracking and scheduling and optimization of energy consumption that can increase yield, uptime, and quality, as well as reducing costs and waste.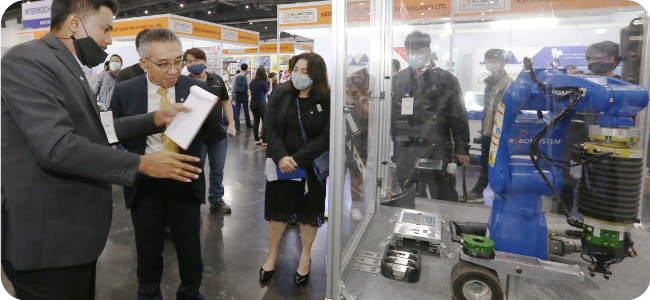 INTERMACH FORUM
"SMEs Transformation to Smart Manufacturers"
One of the many highlights at INTERMACH is the INTERMACH FORUM It is co-organized by Department of Industrial Promotion, Thai-German Institute and Informa Markets. Each year, the forum generates great interest from entrepreneurs in the manufacturing industry at all levels. With the full support from both private and public sectors many important topics covered this year will be presented by leading experts include "Policy on promotion and entrepreneurship to enhance the manufacturing process with technology and innovation in Industry 4.0"; "SMEs Workforce Transformation for Smart Manufacturing" and "SMEs Transformation to Smart Manufacturers".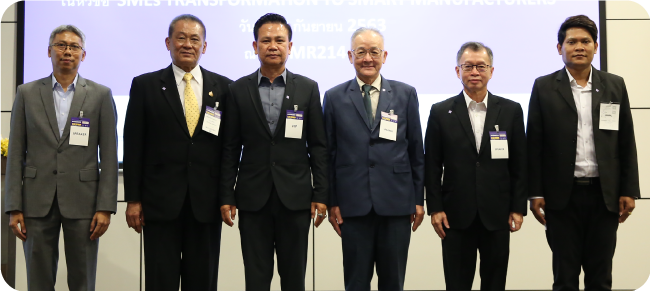 The Future Automotive Forum -
The preparation for disruption of the Thai automotive industry
When it comes to disruptive technology, it probably will not be the least daunting to the operators in the automotive industry. At the present, the arrival of the next generation of automotive means that entrepreneurs must adjust and adopt to these changes in order to drive forward. The Future Automotive Forum is a seminar that will help prepare entrepreneurs to cope with the disruption of the Thai automotive industry and to prepare for the changing trends of the global automotive industry. The topics covered include "Plans to drive the modern automotive industry and alternative energy source vehicles", "Adaptation and future of the Thai automotive industry" and also Panel of discussion from the industry leaders on the Preparation to cope with the disruption of the automotive industry in the future of Thailand.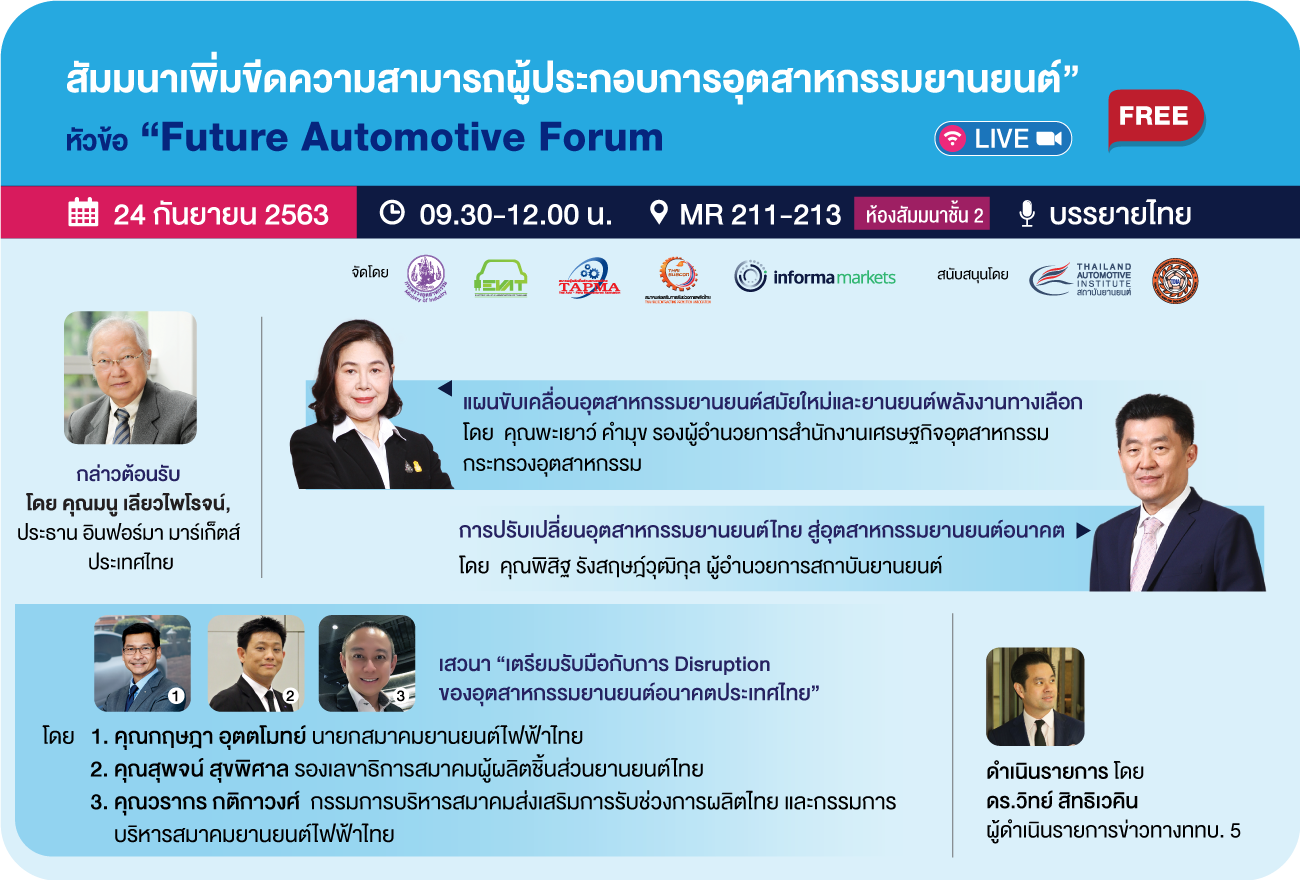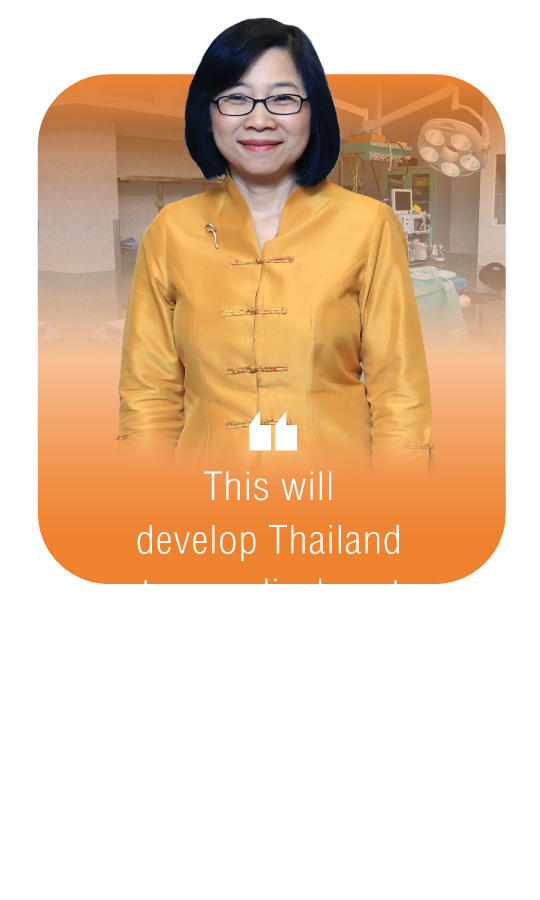 THAILAND – INDUSTRIAL SOURCING HUB OF ASEAN
The COVID-19 Outbreak has affected the economy and investment around the world. It has created many changes to the global supply chain of industries. As a result, the concept of public health security has become one of the deciding factors for investment. Especially in products related to the medical industry, digital technology industries platform development, logistic systems & automation are considered industries that Thailand has potential in.
Ms. Duangjai Asawachintachit, Secretary General of the Board of Investment of Thailand said
"Overall, the BOI's adaptation to the COVID-19 epidemic will be in line with the 2015-2021 investment promotion policy that aims to elevate the manufacturing sector to Industry 4.0. This will develop Thailand as top medical center; support research and development; and supply-chain innovation. Subcontracting industry is a key driver for Thailand's future for economic growth and competitiveness on the world stage."
For main highlights in the SUBCON Thailand 2020 this year are Business Matching, Seminars, BOI Clinic advice service and the Innovation showcase to business of medical devices and the aerospace industry. Over the next 4 days, SUBCON Thailand 2020 is expecting positive results amidst COVID-19 and are expecting over 4,000 business matching pairs via both physical and online programs resulting in more than 7 Billion Bath in business transactions taking place for the show period and more after the show.
SUBCON Thailand Business Matching
ASEAN's largest Business matching program for procurement of Industrial parts
With the travel restriction, SUBCON Thailand Business Matching program this year is a combination
of traditional and online activities in order to meet buyer's needs in many dimensions, especially from overseas. BOI's offices have been inviting major local and oversea buyers to participate in an online business matching program.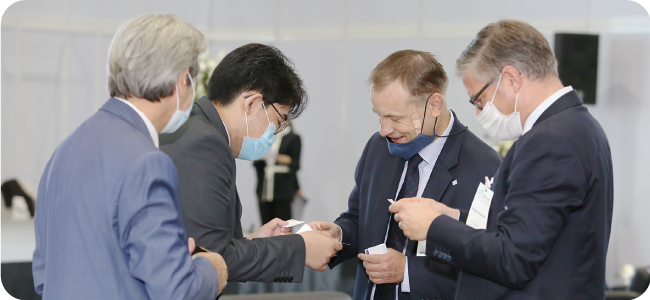 Your great business opportunity awaits you at Buyers' Village
This is your window of opportunity to meet face-to-face with procurement officers from some of the world's leading industrial part-buyers from a variety of industries. All are on hand to discuss part requirements and procurement policies in person! Some of the companies in the buyers' villages are Isuzu Motors, Robert Bosch Automotive, Voestaltine Railway System etc.